May 02, 2023 | Child Sponsorship
In High Gear
In Unbound communities everywhere, people are making good use of bicycles in their daily lives
By Larry Livingston
Isaac spends his days spinning his wheels.

That's a good thing in his case because Isaac runs a bicycle repair shop in Eldoret, a city in Western Kenya, where he lives with his wife Judith and their two children. Their son Rabin, 11, is sponsored through Unbound.

"The shop I used to work in … had more than five technicians," Isaac said. "Most of the customers who would come there would ask for [me]."

Isaac gained a good reputation in his community not only for his knack at fixing bicycles (and gas stoves, pressure lamps, umbrellas and a variety of other things), but also because he hires and mentors youths in the community, whose idleness might otherwise lead to trouble.

"Rather than staying at home, coveting someone's property, stealing and selling it, they can come here and make a little money of their own," he said. "We have youths [in the community] who are abusing drugs and, at least for these ones, when their parents come here, they see that their sons are here working."
Pedaling around the world
That people come from miles around to have Isaac repair their bicycles, and sometimes to buy one of the bikes he builds from spare parts, is a testament to his skill, but it's also reflective of the important role bikes play around the globe.

People ride bicycles in nearly every location for recreation, exercise and to get around. But in the countries where Unbound works — where any form of transportation can be precious, and earning a living often requires ingenuity — bikes are sometimes more necessity than option.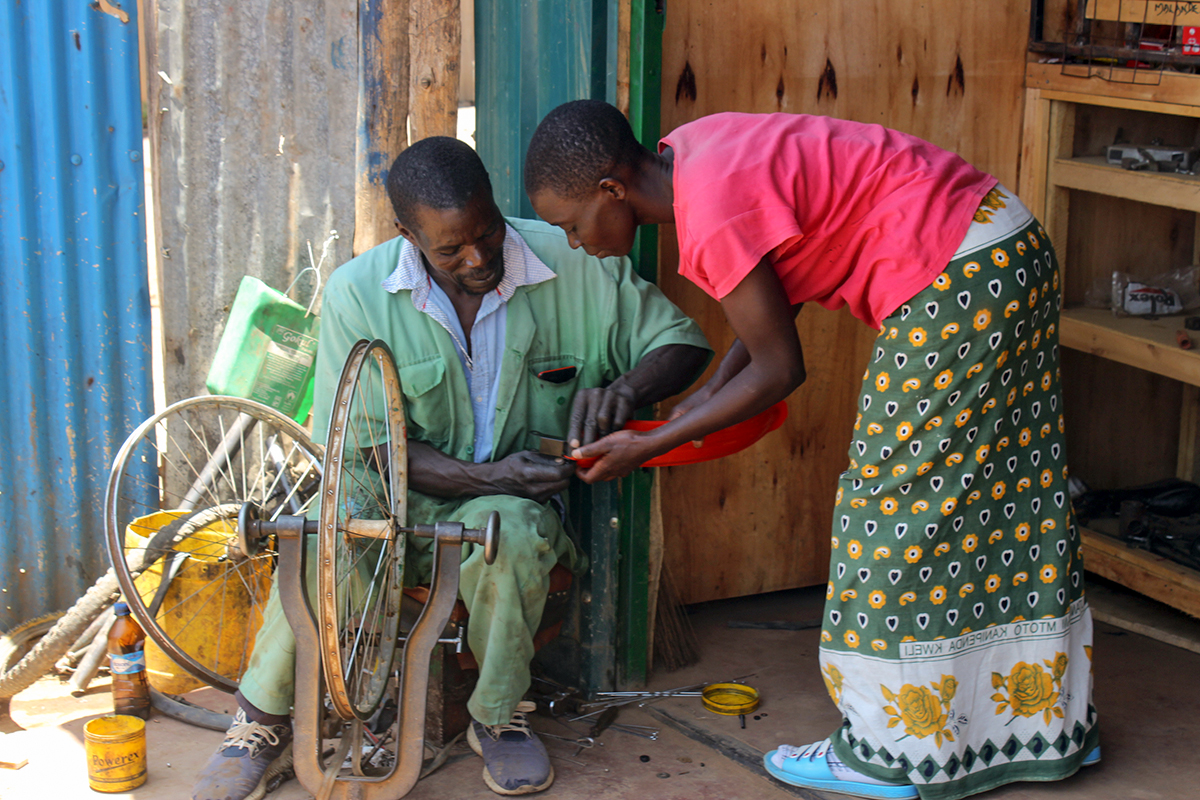 Have clothes, will travel
Roselyn and Romeo live in the Philippines. They are the parents of sponsored child Jemier, 12. The couple operates an "ukay-ukay," a used clothing store. But their "shop" is mobile, consisting of a rolling rack welded to a bicycle.

"On a good day, having perfect weather, we can earn as much as [$27] per day," Roselyn said. "It depends on the quality and number of items we are selling. We travel from town to town just to look for people who could buy our items."
Riding his way to a better future
Dennis, an Unbound scholarship student, attends Pwani University in Kilifi, on the southern coast of Kenya. He uses his bike to get around on the sprawling campus.

Dennis is one of five children of a widowed mother who does casual labor to support her family.

"After high school, I was giving up on joining university," he said. "If not for scholarship, I wouldn't be here.

"God bless them," Dennis said about contributors to the Unbound Scholarship Program. "[I hope] they continue with the same spirit. When people like me become successful, we will join them!"
She keeps her dream alive
Brejit is the mother of sponsored child John Dominic in the Philippines. She enjoys bicycling for exercise and fun.

When she was younger, Brejit dreamt of becoming a teacher, but her family couldn't afford the expense. But today, in her own way, Brejit is contributing to the education of children. With funding through Unbound's Agents of Change platform, she and other mothers in her community were able to provide a computer and printer for a local school.

"We feel valued on what we did," Brejit said. "We are helping the school even if in reality we are also in need. What we did is an act of God to all the children who are just starting the journey to their dreams."
Sometimes a bike is a workhorse
Waldemar is one of the 10 children of sponsored elder Rosa in Guatemala. His daily chore is to collect firewood, which he transports home on the back of his bike.

Seeing people use bicycles to haul cargo — even heavy and highly stacked loads — is not an unusual sight in the countries where Unbound works.

Once it's delivered, Rosa uses the wood to cook tortillas, as she has for more than 50 years. She sells them to friends and neighbors. She said some of her children have tried to talk her into retiring, but so far she's resisted.

"What would I do?" she asked.
Pushing forward
Operating passenger transport vehicles of various sorts is a common way to earn a living for members of Unbound communities around the world, especially those who live in large metropolitan areas. Some of these vehicles are powered by gas engines and some by the strength of their legs.

Romy drives a pedicab in Daet, a city in the Central Philippines. While some such conveyances are three-wheelers, his is a bicycle with a sidecar. Like many who earn their living in the casual economy, Romy was hit hard by the pandemic. His family, like most in the Unbound program, received special financial assistance at the height of the crisis.

In addition to driving his cab, Romy is also a single father raising five children. His oldest daughter, Romelyn, 15, is sponsored through Unbound.

"My only message is to all the fathers out there," Romy said. "Hard work and perseverance is our only key to continue surviving and to keep supporting our children."

Put another way, keep pedaling.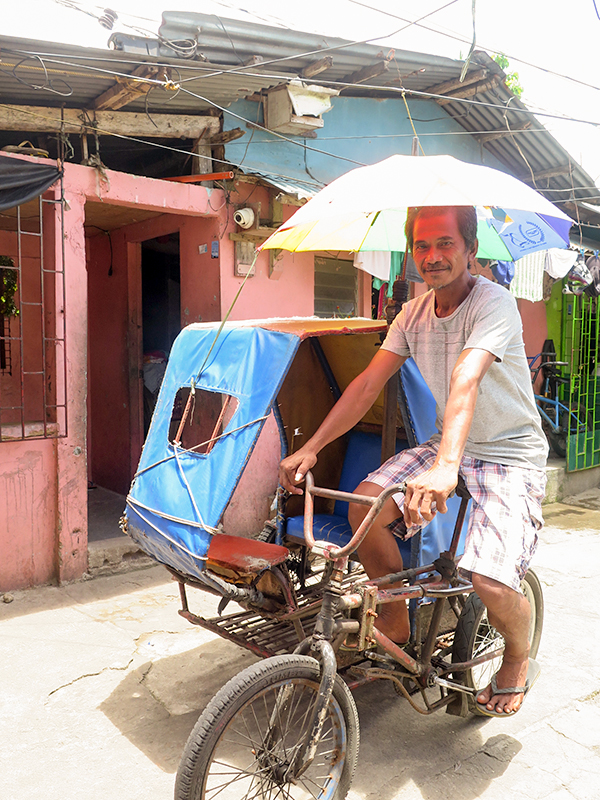 On a good day, having perfect weather, we can earn as much as [$27] per day. It depends on the quality and number of items we are selling. We travel from town to town just to look for people who could buy our items.



— Roselyn, Mother of sponsored child and used clothing merchant